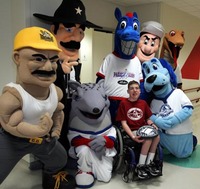 The Texas Collegiate League will be well represented at the National Kidney Foundation annual Children's Holiday Party on Saturday, December 10.
The party will be held at the Radisson Dallas Love Field Hotel. Appearing at the party will be Slider of the Coppell Copperheads; G-O of the Graham Roughnecks; Dinger of the Highland Park Blue Sox; and Loco Joe from the Mineral Wells Steam.
The mascots will sign autographs and entertain the participants from 12 noon until 2:00 p.m. on Saturday.