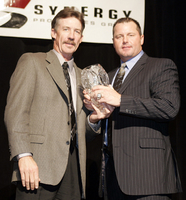 The second annual Texas Collegiate League Legends Dinner Presented by Synergy Properties Group was held on December 15 at the Renaissance Worthington Hotel in Fort Worth. A capacity crowd of nearly 500 was on hand.
Seven-time Cy Young Award recipient Roger Clemens was the guest of honor and received the Texas Legends Award, which is presented annually to a Texan who has excelled in the world of baseball.
At the age of 43, the righthander helped lead the Houston Astros to their first World Series appearance ever in 2005, compiling the lowest earned run average in the majors at 1.87 while posting a 13-8 record and 185 strikeouts in 32 starts.
Clemens was the second recipient of the Texas Legends Award, which was presented by fellow Texan and former major league pitching standout Danny Darwin (photo at right). Nolan Ryan was the 2004 recipient.
Other former major league players who attended the dinner included pitchers Darren Hall, Mike Henneman and Todd Van Poppel and catcher Jim Sundberg. Current Minnesota Twins outfielder Lew Ford was also on hand.
The Texas Collegiate League 2005 award recipients were also honored at the dinner. These include Player of the Year Andrew Brown of the Denton Outlaws and the University of Nebraska; Pitcher of the Year Austin Creps of the McKinney Marshals and Texas A&M University; Freshman Pitcher of the Year Aaron Brown of the Coppell Copperheads and the University of Houston; and Coach of the Year Derek Matlock of the Denton Outlaws.
In addition, the 2005 Synergy Host Family Award was given to the McKenzie Family, which has housed two Highland Blue Sox players each of the last two summers.
Synergy Properties Group of Fort Worth was the title sponsor of the Legends Dinner. Presenting sponsors were D-Bat, Diamond Sports, and Pro-Line Cap Co.