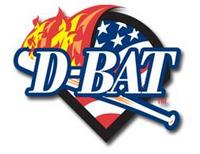 TCL Names D-BAT Player and Pitcher of the Week - June 23, 2006
The Texas Collegiate League has announced the D-Bat Player and
Pitcher of the Week for June 15-21 games.
Infielder Matt Cavagnaro (Penn State) of the McKinney Marshals and Bridgewater, N.Y., earned Player of the Week laurels after batting .333 (8-for-24) and helping the Marshals go 6-1 over a seven-game span. He scored five runs, had three RBI, walked five times to attain a .542 on-base percentage, and had a pair of multiple hit contests. He also maintained the individual batting average lead for the TCL (minimum of 20 official trips to the dish) with a .444 mark (20-for-45), one homer and six RBI in 13 games through June 22 for 10-3 McKinney.
Coppell Cowboys' junior pitcher Randy Boone of Texas via Yoakum, Texas, tossed a on-hit shutout and struck out a TCL-best 13 hitters while walking one in a 1-0 triumph over Mineral Wells June 20. It was the first complete-game shutout in the TCL since Aug. 7, 2004, and just the second CG of the '06 season. Boone has helped the Copperheads maintain the top overall record along with McKinney in the TCL at 10-3 through June 22 outings.
D-Bat TCL Players, Pitchers of Week
June 8 - OF Jose Hernandez, Denton; P Allen Harrington, McKinney
June 15 - OF-SS Aljay Davis, Denton; P Joseph Krebs, Coppell
June 22 - IF Matt Cavagnaro, McKinney; P Randy Boone, Coppell