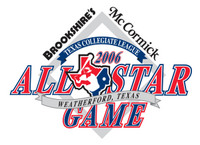 Loaded with a field of all-stars in their own right, the third annual Brookshire's-McCormick Texas Collegiate League All-Star Game and golf tournament on Monday, July 10, at 7:35 p.m. (CDT) at Weatherford's Roger Williams Ballpark promise to be a true showcase of the league's deep and talented rosters.
Tickets are available in advance by calling 817-694-0404 or 817-771-8882, and they are being sold at this time by cash and check purchases only for the Brookshire's-McCormick All-Star Game. Details about the third annual TCL Golf Classic and Players Luncheon at Weatherford's Canyon West Golf Club (complete directions follow later in the notebook) and signup forms are available at the TCL Web site: www.Texascollegiateleague.com, by phoning 817-929-3864 or going to the Weatherford Wranglers' official site at www.tclwranglers.com.
The All-Star clash, which will be televised live by FSN Southwest and in tape delay format over several other FSN regional affiliates (please check local listings), has drawn attendance interest from fans from as far away as California, New York, New Jersey, and Pennsylvania.
It features the crème-de-la-crème of TCL rosters as well as the pregame Compass Bank Home Run Derby from 6:30-7 p.m. (CDT) and various other functions from infield to pregame warm-ups to full-roster player introductions at 7:15 p.m. Gates open at 4:00 p.m., and any remaining tickets will be on sale at the Roger Williams Ballpark ticket office starting at when the gates open.
Two standouts of particular national interest are on the talented Tris Speaker Division All-Stars. Rice's NCAA World Series competitors freshman OF Aaron Luna of the Euless LoneStars via Southlake, Texas, and sophomore SS Brian Friday of the Duncanville Deputies and Houston, Texas, lead a hard-hitting Speaker crew. Both were named 2006 All-America (Luna being tabbed consensus Freshman All-America) and had the statistics to back their honors. Luna led the No. 3 team nationally with 16 home runs while Friday topped Coach Wayne Graham's Owls with a .353 batting average to go with nine homers and 57 RBI.
Fans attending or watching on FSN also will be treated to the talents of TCL batting leader Matt Cavagnaro of McKinney via Penn State at .438 through games of July 4 for the Speaker All-Stars, standout pitcher Randy Boone for the Speaker squad, the Coppell Copperheads and Texas (no earned runs, 3-0 record in three starts, 29 SO in 24 IP), and Arkansas signee Jeff Nutt of Coppell and Wylie, Texas, with some of the league's top defensive numbers.
Lest anyone ignore the equally-talented Rogers Hornsby Division All-Stars, there are multiple standouts with impressive credentials.
Freshman LHP Andrew Benedict of the Mineral Wells Steam via Texas-San Antonio and Lewisville, Texas, allowed just three earned runs in his first 25 innings of work for the Hornsby All-Stars. Teammate RHP Wade Mackey of Mineral Wells and Baylor per Van, Texas, jumped out to a 3-1 start with a 1.03 ERA and 26 whiffs in 26 IP. Hornsby Division hitting prowess comes from the likes of OF Aljay Davis of the Denton Outlaws, Northeastern Oklahoma A&M and Lakewood, Calif. Davis has signed with the Oklahoma Sooners for 2007 and sports a .400 average with one homer and 18 RBI after his first 20 contests. All-Star teammate OF Jose Hernandez of Long Beach State and Anaheim, Calif., has a .347 mark, two homers and 18 RBI at the near-midway point in the wooden bat league.
Other Hornsby Division hitters with punch include Graham 2B Jess Buenger (.302) of Texas A&M via Brenham, Texas, and home field favorite 3B Daniel Cox of Weatherford, Sam Houston of the Southland Conference and Channelview, Texas. OF Evan Bigley of Denton, Dallas Baptist and Lancaster, Texas, is tied for the TCL home runs' lead at four through 21 games in a pitching-rich circuit.
Schedule for Third Annual Brookshire-McCormick's Texas Collegiate League All-Star Game - Monday, July 10, 2006 - Roger Williams Ballpark on the Campus of Weatherford College.
(All Times CDT)
7:30 am - Registration & Putting Contest, TCL All-Star Golf Classic, Canyon West Golf Club in Weatherford
8:30 am - Start of the TCL All-Star Golf Classic - Shotgun Start
2:00 pm - TCL All-Star Luncheon, Canyon West Golf Club
3:15 pm - Luncheon Ends
4:00 pm - Roger Williams Ballpark Gates Open
4:20-5:00 pm - Hornsby All-Stars BP
5:00 pm - Team Pictures in Outfield
5:10-5:50 pm - Speaker All-Stars BP
5:50-6:00 pm - Hornsby All-Stars Infield
6:00-6:10 pm - Speaker All-Stars Infield
6:10-6:25 pm - Field prep
6:30-7:00 pm - TCL All-Star Home Run Derby sponsored by Compass Bank
7:15 pm - On-Field Introductions
7:25 pm - National Anthem - Katy Keenie
Ceremonial First Pitch - Steve Silvertooth - Brookshire's/McCormick
7:30 pm - Umpires at Home Plate
7:30 pm - FSN on air
7:37 - First Pitch
Four-Week Wrap-up on TCL Baseball:
Denton (14-9 through July 7) is trying to put some distance between its squad and the rest of the Rogers Hornsby Division as the Texas Collegiate League counts down toward its third annual Brookshire-McCormick's All-Star Game. Outlaws' head coach Derek Matlock has clinched the same position for the Hornsby Division in the Monday All-Star contest as Denton enters Saturday's games with a four-game edge (14-9 overall record) over Mineral Wells (10-13) in almost-midyear standings. Denton nailed down eight wins in its first 13 home games and has a division-best 6-4 mark from June 25-July 7.
The Tris Speaker Division is very much undecided as Coppell has gained a two-game advantage (19-5 to 17-7 for McKinney). Copperheads' head coach Skip Johnson has a great chance at his first All-Star mentoring role for the Speaker Division while the Marshals' head coach Kyle Hope brings in 2004 TCL Coach of the Year credentials if his team rallies for the half-circuit lead. Hope is 78-44 (.639 winning percentage) for the most wins and top victory rate of any baseball boss in TCL history through July 7 activity.
The obvious secret to Denton's success has been a .278 team batting average, 22 points higher then No. 2 hitting McKinney at .256. Coach Matlock's team pitching has not been shabby either with a 3.15 earned run average - .7 behind Coppell's league-best 2.45 squad ERA. Individually in TCL stats, Canadian Tyler Stromsmoe (Plano/Southern Arkansas) leads the league with 16 stolen bases - one more than runner-up Michael Richard of McKinney (Prairie View) with 15.
Hard-hitting 2B Matt Cavagnaro (McKinney/Penn State) tops three batting average ladders with a .438 average, 39 hits and four triples. Ben Burum (Mineral Wells/Texas-Arlington) has maintained his RBI leadership with 20 in 22 contests while All-Star OF Evan Bigley (Denton/Dallas Baptist) and IF Adam Ching (Duncanville/Pacific) share home run honors with four. Ching is the early favorite in Monday's Compass Bank Home Run Derby at Weatherford Monday at 6:30 p.m. prior to the All-Star bout.
Pitching remains the heart and soul of the 2006 TCL. Seven of the nine teams have ERA under 4.00 while first-year entry Duncanville is just over .5 off the baseline at 4.58. McKinney (10 saves) and Coppell (9 saves) have the bullpen depth to preserve almost any of their team leads.
Besides dominating Randy Boone (4-0 record, 0.56 ERA, 39 SO in 32 IP) of Coppell/Texas, Denton relief ace Brice Ary (Baylor) has yielded just two earned runs in 19 2/3 innings with a TCL-topping 0.47 ERA and 11 strikeouts.
Mark Doll (2-1, 0.60 ERA) of Plano/Birmingham-Southern adds almost one strikeout per inning with 26 punch-outs in 30 frames while McKinney's Allen Harrington (4-1, 2.67 ERA) via Lamar has been posting Nolan Ryan-like numbers with 46 strikeouts in 37 1/3 innings.
In other TCL notes:
It's official! The first Texas Collegiate League alumnus has been summoned to the majors. Pitcher Mark Lowe (Highland Park 2004) was called up Friday by the Seattle Mariners. Lowe had a solid season at Highland Park (now the Plano Blue Sox) in '04 after a stellar career at Texas-Arlington. The Houston native dominated the California League and struck out 46 hitters in 29 1/3 innings at San Antonio in the Texas League this summer before receiving the call up July 7. He appeared for the Mariners against Detroit in his Major League debut Friday night and struck out two while allowing two hits in a shutout inning.
In the days prior to the third annual Brookshire-McCormick's All-Star Game Monday at Weatherford, reflections on the first two All-Star extravaganzas show some superlative team pitching performances.
The 2005 contest in McKinney at Gabe Nesbitt Field ended in a 5-2 triumph for the Tris Speaker Division over the Rogers Hornsby All-Stars. Jacob Ramos (Coppell/Rice) earned the win with a save from college teammate Bruce Cox (McKinney) as the Speaker team held the Hornsby entry to seven hits and no homers in the nine-inning bout. The 1,200-plus fans in attendance and super-regional television audience on FSN were treated to a power outburst by '05 and '06 TCL star Matt Cavagnaro (McKinney/Penn State) with a two-run homer in the seventh inning. Coppell's Adam Moore (Nebraska/Texas-Arlington) and Highland Park's Tyler Jones (South Alabama) also launched homers to pace an 11-hit attack for the winners. McKinney's Brett Robinson whiffed two of the minimum three hitters he faced in relief to earn Most Valuable Pitcher laurels while Moore was 2-for-2 with a double and the dinger to capture Most Valuable Player honors.
In '04 at Steer Stadium in Graham pitcher Drew Johnson (Coppell/Texas) pitched two perfect innings in a starting role for the Speaker Division to gain Most Valuable Player kudos (no Most Valuable Pitcher designation was made). Randall Taylor (McKinney/Dallas Baptist) earned the pitching triumph with help from a solo homer by Austin Boggs (McKinney/Texas A&M). Speaker Division pitchers blanked the Hornsby group for the final four innings after another solo blast by Travis Reagan (Weatherford/Rice) in the fifth inning.