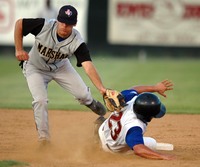 WEATHERFORD, Texas--The Tris Speaker Division received standout pitching from nine different hurlers to topple the Rogers Hornsby Division 7-1 in the third annual Brookshire-McCormick's Texas Collegiate League All-Star Monday night.
Speaker moundmen scattered six hits and did not allow a RBI while striking out six Hornsby hitters and waling three. The only Hornsby Division run came on a wild pitch in the third inning.
Starter Randy Boone of Coppell (Texas) retired three of the first four men he faced with only a walk to get the mound win. Speaker's Allen Harrington of McKinney (Lamar) worked his way out of a bases loaded predicament in the second inning to preserve an early 1-0 lead for the winners.
2B Adam Ching of Duncanville (Pacific) took MVP honors in the contest with a two-run double and stolen base in the eight inning to put the game out of reach and produce the final 7-1 margin.
Ten different hitters had one hit apiece for the Speaker Division while catcher Tyler Weber of Euless (Wichita State) drove in the first run of the game in the top of the second. SS Brian Friday of Duncanville (Rice) belted a double and scored ahead of a throw on Jeff Nutt's (Coppell/Navarro JC) RBI single to give the Speaker squad all the runs it needed in a two-run rally in the third.
Weatherford's Donald Furrow (TCU) was tagged with the loss as he surrendered the lone run in the second frame.
Earlier in the evening Euless' Aaron Luna (seven homers in two rounds) of Rice NCAA World Series note won the Compass Bank Home Run Derby.