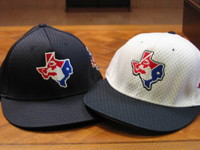 The official on-field hats from the 2006 Brookshire's-McCormick All-Star Game are now available. The Tris Speaker Division hat is dark navy and the Rogers Hornsby Division hat is white with a dark navy bill. The hats are a pro-stretch fit and are available in medium (6 7/8 - 7 1/8), large (7 1/4 - 7 1/2) and x-large (7 5/8 - 7 7/8). The All-Star Game hats are $20 each.
DVDs of the Brookshire's-McCormick All-Star Game broadcast which was carried live on FOX Sports Net Southwest are also available. The DVDs are $15 each or two for $25.
Hats and DVDs may be purchased by calling 817-339-9367. Be sure and get yours today before they are all gone!
The commemorative All-Star Game t-shirts featuring the All-Star Game logo on the front and the logos of all nine Texas Collegiate League teams on the back are available for $12 each. These may be purchased by contacting the Weatherford Wranglers at 817-694-0404.