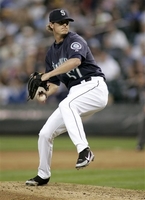 On Friday, July 7, the Seattle Mariners purchased right-handed pitcher Mark Lowe's contract from their double-A farm club in San Antonio. This marked the first time that a former Texas Collegiate League Player made it to the majors, and that player so happened to be from the Blue Sox for the 2004 Highland Park squad. In the summer of 2004, after pitching for UT-Arlington, Lowe threw 3 innings for the Blue Sox and gave up just one run. His stint with the Sox ended abruptly as the Seattle Mariners selected him in the fifth round of that year's amateur draft, whereupon he signed a professional contract and reported to his first minor league destination.
Lowe started slowly in professional baseball compiling an 4.93 ERA in short-season A ball in 2004. He spent the 2005 season pitching in low-A ball where he made the transition to a starter.
In 2006, the Mariners wisely moved him back to the bullpen and his career took off. He began the year in high-A and after just 29 1/3 innings he proved his mastery of that level earning a mid-season promotion to the San Antonio Missions of the double-A Texas League. In those 29 innings, his ERA was 1.84 and batters hit for just a .132 average against him. He also struck out an amazing 46 batters which gave him impressive strikeout to inning and strikeout to walk ratios (1.56 and 4.18 respectively). In double-A, Lowe continued his dominance as he worked just 16 2/3 innings giving up only four runs before receiving the phone call of his life.
When Lowe received that call his response was "You're kidding me." In fact though, the Mariners were far from kidding as he reported to Seattle later that afternoon and actually pitched in that night's game against the major league team with the best record in baseball – the Detroit Tigers. Lowe's first major league inning went similar to how his minor league career went, as he struggled early before settling into a groove and dominating. He was summoned from the bullpen in the ninth inning with the Mariners trailing six to one and it appeared as if it was going to get worse for Seattle as Lowe gave up a single, and a ground-rule double to the first two hitters he faced. He then plunked a batter to load the bases with nobody out. However, he then struck out Placido Polanco, who is known as one of the hardest batters in baseball to strikeout, and forced All-Star Ivan Rodriguez to ground back to him, where he got the force-out at home. Then, with two outs and the sacks still full Lowe struck out another All-Star, Magglio Ordonez.
After throwing 25 pitches in the inning Lowe did not pitch in Saturday or Sunday's game before the All-Star break, but he is still on the active 25 man roster headed into the second half of the season.
The Mariners get the second half started on Friday just two and a half games back in the tightly bunched American League West standings. If Lowe can continue to pitch well, he should be in Seattle for the long term, and could be an important piece to the Mariner's bullpen in helping them earn a spot in the playoffs.
Congratulations to Mark Lowe, the first former Texas Collegiate League alumni to reach the major leagues!
By Steven Moglovkin