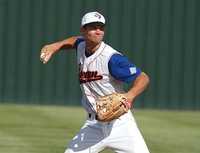 Jason Seefeld (Mineral Wells Steam '06-'07) is helping guide Texas Tech through the heart of Big 12 Conference competition this year. The 2006 TCL All-Star spent some time on the mound early in the season but has recently found a home at second base for the Red Raiders. Seefeld is currently hitting .282 with 12 RBI and .321 OBP.

Aiabaseball.org caught up with the Steam alum and talked about this season and his experience in the TCL.

What have you been up to since we spoke with you last summer?

Jason Seefeld: After last summer we went back to school and played fall ball. We got after it hard and the season started and school started and stuff like that. That's basically all we've been up to – the season and practicing…stuff like that.

You started off pitching this year and now you are starting at second base. How does it feel to have a home at second base?

JS: Like you said, I started off early pitching. That was kind of an experimental deal and it didn't really work out for me too well. Lately I've been working out at second and I think I've found a home there. It feels good to play every day, I'm enjoying it.

What kind of impact did last summer have on you?

JS: It was great. It was a physically and mentally challenging experience. It prepared me for the everyday grind of baseball, as well as spiritual things. It was a priceless experience and I wouldn't trade it for the world.

Your host family isn't doing your laundry anymore and you probably want that every once in a while. Talk about them and the relationship you have.

JS: She's a sweetheart, I'm telling you. I stayed in touch with them and been in touch with family on the phone. They came out to (our home) Clovis, N.M. , and stayed with us for a week. Mrs. Caywood is a sweet lady and I'm grateful for what she put up with this summer.


Alright Jason, best of luck the rest of the way and look forward to seeing you this summer.