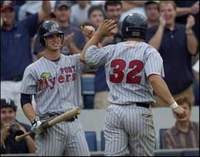 Fort Myers Miracle outfielder Erik Lis (Colleyville-Grapevine LoneStars '04) took advantage of an opportunity of a lifetime facing baseball legend Roger Clemens in a Class A game against the Tampa Yankees. With two-outs in the first inning, Clemens delivered a fastball to Lis who quickly sent it over the wall into the stands in right field.

Lis, who was the Texas Collegiate League's 2004 Player of the Year, hammered the 330-foot solo home run Friday night in front of a sellout crowd of 10,486 fans and a national televised audience on ESPN2. The home run gave the Fort Myers Miracle (Class A) a 1-0 lead and sent reporters to the press box to find out more about Lis, a ninth-round draft pick by the Twins in 2005.

The 23 year-old Lis was born the same year Clemens launched his major league career. The former TCL star ended going 1-for-2 and thanks to his dad Greg, Lis now has the home run ball in his possession for the trophy case at home.

In the 2004 summer, Lis lead the TCL with a .418 average, which is a still a TCL record for highest average in a season. He also tallied six home runs, 74 hits and 35 RBI.

Click here for the full story on Lis's big night.