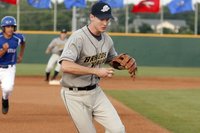 The Texas Collegiate League has announced Brazos Valley outfielder Joseph Towns (UT-Tyler) as the D-Bat Player of the Week and McKinney pitcher Justin Murray ( Kansas State ) as D-Bat Pitcher of the Week for the games during June 11-17.

Towns (6-3, 175, Soph.) went on a tear last week hammering two home runs and eight RBI during his torrid 9-for-17 (.529) streak. Towns tops the TCL ranking first in hitting (.484), home runs (2) and slugging percentage (.710) for the season. The Carrolton, Texas native has a hit in all but one game this season with a phenomenal showing against the Roughnecks going 4-for-6 with a home run and four RBI.

During his spring season at UT-Tyler, Towns helped lead the Patriots to an ASC East Championship and compiled a 37-1 overall record on the season - the best among all NCAA teams in the nation. His impressive .398 average with 12 doubles and 35 RBI earned him a spot on the All-East Second Team.

Murray (6-3, 216, Soph.) becomes the second straight Marshals pitcher to be named DBat Pitcher of the Week as he tamed the Copperheads' bats tallying seven strikeouts, one earned run and only four hits in seven strong innings last Tuesday. In two starts this season, Murray is 1-0 with a 0.82 ERA and 12 strikeouts.

After being one of Kansas State 's top hurlers out of the pen as a freshman, Murray remained consistent during his sophomore stint posting a 4-3 record with 44 strikeouts in 24 appearances (4 starts).


For detailed stats of players in the TCL, visit www.texascollegiateleague.com/stats/07season.