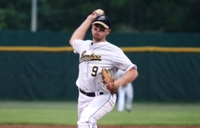 A look back at Week 3 in the Texas Collegiate League

The 2007 season has been soggy so far to say the least.

It has been one of the rainiest months of June in history of North Texas.

Around 25 games league-wide have been postponed due to inclement weather and there is more rain in the forecast.

The biggest dark cloud has been over the Copperheads as they have postponed seven games so far with only ten games played.

Click here for the list of rainouts and their rescheduled dates.

WHITMER FLIRTS WITH HISTORY
Brazos Valley 's Casey Whitmer ( Florida State) challenged the single game strikeout record against the league's best hitting squad.

Whitmer fanned 14 Copperheads in seven innings missing the record by one strikeout.

Jess Todd (Coppell Copperheads '06), who was the highest TCL alumni drafted in 2007, whiffed 15 batters when facing Weatherford on July 22, 2006.

TIGHT RACE IN THE SPEAKER DIVISION
Even though the division leading Coppell Copperheads have fewer games played than any other team this season, they still have the best winning percentage in the division at 6-4 (.600).

It will be an interesting race to watch as all the teams are within at least two games of each other.

The Bombers are even at .500 in second place with a 7-7 record followed by Colleyville (6-7, .462) and Duncanville (5-7, .417).

2007 ALL-STAR GAME APPROACHING
The fourth annual Brookshire's-McCormick Texas Collegiate League All-Star Game is less than two weeks away as the crème-de-la-crème of the league will battle at TCU's Lupton Stadium on July 9th.

The coaches throughout the league are responsible for voting for the All-Star players from their division.

The All-Star game rosters and other information will be released on Monday July 1.

You can witness the action by calling 817-339-9367 to reserve your seat at TCL's mid-summer classic. Ticket s are $10 for adults and $6 for kids 4-12.

HOME SWEET HOME
All teams love the opportunity to play on their home turf, but no one likes it more than the McKinney Marshals.

The Hornsby division leader Marshals are 7-1 in the games at Gabe Nesbitt Field.





LADENDORF, KIBLER RACK UP WEEKLY HONORS



Denton
infielder Tyler Ladendorf ( Howard College ) was named as the D-Bat Player of the Week and Weatherford pitcher Jon Kibler ( Michigan State ) as D-Bat Pitcher of the Week for the games during June 18-24.

Ladendorf (6-1, 185, Fr.) raised his average considerably this week going 9-for-18 (.500) cracking at least one hit in every game including three multi-hit performances. The Des Plaines, IL native had his best performance against Brazos Valley hitting a perfect 3-for-3 with two runs scored. He currently leads the league in stolen bases (7), second in doubles (5) and tied for third in hits (16).

Kibler (6-5 210, Jr.), a southpaw out of Freeland, MD , has been untouchable so far in the 2007 season. The Michigan State product has not allowed a run in 13 innings while only giving up six hits. Kibler (2-0) shined in his appearance last Monday going eight strong innings allowing only three hits, no runs and struck out six. He currently leads the league in ERA (0.00) and second in wins (2).


MASUDA'S LUAU

Brazos Valley catcher Kip Masuda ( Long Beach State ) felt right at home during the "Hawaiian Night" promotion in Coppell.

The Kaneohe, Hawaii native blasted two home runs, his first two of the season, against the Copperheads to lead the Bombers to a 7-2 victory.



ON A MISSION
The Mineral Wells Steam took advantage of their rainouts to contribute their time to the community.

After yesterday's game in Wichita Falls was cancelled, Steam players and staff volunteered at a local crisis center to assist with repairs and painting.

The Steam, who is owned by Athletes in Action, always strive to help those in need around the Mineral Wells area.

TCL BASEBALL MAGAZINE PRESENTED BY HEALTHMARKETS


Don't forget to tune into the TCL's television show that airs Fridays at 2pm and Saturdays at 12:30pm on FSN Southwest. Host John Rhadigan from FSN Southwest visits the home of the Colleyville LoneStars, where we take a look at their new setting at Colleyville Heritage High School and speak with Texas Rangers' legend and LoneStars head coach Rusty Greer.

We will sit down with a few of the players in the TCL and discuss their unique baseball habits and superstitions.

You will also have the chance to have a behind-the-scenes look at the day in the life of Coppell general manager Chris Sorrels.

The show will feature an interview with Greg Williams, who is one of the talented voices on 1310 The Ticket. Williams will discuss his tie to the TCL and talk about his decision to become a host family.

The TCL Baseball Magazine can be seen on Fridays at 2:00p.m. (CDT), and will re-air on Saturdays at 12:30p.m.

For comments, questions, story ideas, or suggestions please e-mail Tiffany Watts at [email protected] or call 817-759-2811 ext. 26.

THIS WEEK'S TRANSACTIONS
6/26/07 - Colleyville LoneStars add OF Tyler Henley (Rice); Drop OF Eric Epperson (Lewis & Clark)
6/23/07 - Coppell Copperheads add OF Matt McGuirk (TCU); Drop SS/2B Harrison Dreiling (Wichita State)
6/20/07 - Brazos Valley Bombers add RHP John Touchton (Houston); Drop C Justin Hollaway (Texas Southern)
6/20/07 - Colleyville Lonestars add LHP Kyle Brown (UCSB), OF Chris Fox (UCSB), Drop OF Cameron Monger (Howard College), RHP Blake Booher (UT Tyler)

|
Back to index...