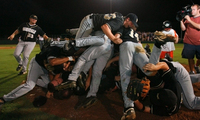 The Texas Collegiate League today announced the schedule for its sixth season. The 48-game campaign will open on Friday, June 5, with the regular season concluding on Saturday, August 8.
The season will kick off with the defending champion McKinney Marshals playing host to the Brazos Valley Bombers in a rematch of their tightly contested first-round playoff series last year. The next night, the Bombers will visit the Coppell Copperheads, last year's runner-up and the 2007 TCL champion.
In the other Opening Night contest, the league's newest franchise, the newly-christened Victoria Generals, will visit last year's expansion team, the East Texas Pump Jacks. The Generals will have four road games under their belts before the team's historic home opener against the Marshals on Thursday, June 11.
Brazos Valley, who like Victoria opens the season on the road, will also face McKinney in its home opener. The two teams will meet in Bryan on Tuesday, June 9.
Teams will play 24 regular season games at home and head on the road for the other 24 games on the schedule. The five clubs will face each other twelve times, evenly split at six home and six road games.
The league will once again utilize a single-division format to determine standings and playoff seedings for the 2009 season. The top four teams will advance to the playoffs, while the fifth-place team will be eliminated from postseason contention.
In the playoffs, the regular season champion will take on the fourth-place finisher, with the second- and third-place teams meeting in the other series. The two winners will then battle in the TCL Championship Series. All playoff series are best-of-three affairs, with each team guaranteed at least one home game.
The full league schedule is available on the league's web site at www.tclbaseball.com, in both graphical and list formats.