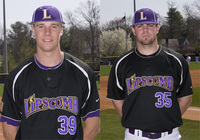 Following the Lipscomb Bisons' upset over Southeastern Conference powerhouse Kentucky, the Brazos Valley Bombers announced the signing of two Lipscomb freshmen to bolster the pitching rotation.
Martin Grude and Josh Cotham are shaping up to be vital pieces of the Bombers' bullpen, which will have more depth than either of the two previous seasons. The pair of right-handed freshman have combined to pitch over 29 innings in relief this season, with Grude also starting one game.
In Lipscomb's come-from-behind 8-7 win, Grude struck out two hitters in two innings to collect his first win of the season. Cotham also pitched three effective innings as Lipscomb overcame a 6-0 deficit in the sixth inning.
Similar to recent Bombers addition Drew Mason, Grude has plenty of experience underneath Bombers Head Coach Brent Alumbaugh. Grude played all four seasons at Franklin High School in Tennessee and was part of a team that played in three consecutive State Tournaments. His best season came as a junior, when he finished the season 4-1 and struck out 29 hitters in 35.2 innings. At 6'5" and 185 pounds, Grude displays a lot of potential and should develop into a fine pitcher in the coming years.
Cotham will also provide the Bombers with plenty of stability in the bullpen. The 6'1" 215 pound right hander from Mt. Juliet, Tennessee has recorded 13 strikeouts in 13 innings so far this spring and has the makings of being a power pitcher and should continue to get even better as he continues to develop his repertoire.