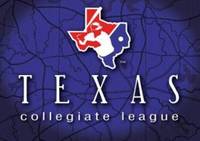 With week one of the 2009 Texas Collegiate League season in the books, a trio of players from Victoria, East Texas and McKinney were named Players of the Week. Mark Hudson of Victoria and Matt Juengel of East Texas were named Co-Players of the Week for their efforts, while Cory Myers of McKinney was named Pitcher of the Week.
The Victoria Generals raced out to a 7-1 start with the help of Hudson, whose only hitless game so far this season was Victoria's only loss. Hudson is batting .405 (15-for-37) with six extra-base hits and a .595 slugging percentage. He leads the league in hits, doubles (5), RBI (10), and runs scored (9). A sophomore from Alvin College, Hudson is headed to Sam Houston State in the fall.
Juengel has been the catalyst for the Pumpjacks offense, smashing a league-leading two home runs while batting .417. With five extra-base hits on the week, Juengel leads the TCL with a .792 slugging percentage. He's also scored a team-high six runs in seven games. A freshman out of Panola College, Juengel will be transferring to Texas A&M.
The defending champion McKinney Marshals have a dominating presence on the mound in Myers, who is 1-0 without allowing a run in three appearances this season. Myers leads the league with 21 strikeouts in just nine innings while walking five, and he's held opposing hitters to a .206 average. Myers is a sophomore headed back to the University of New Orleans in the fall.