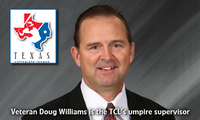 The Texas Collegiate League has selected veteran arbiter Doug Williams as the league's new umpire supervisor, effective immediately.
In his new role, Williams will be responsible for coordinating the TCL's officials, including the selection of umpires on a regional basis and scheduling umps for each of the circuit's seven teams.
Williams has served as an umpire for the Big 12 conference since 1997, Conference USA since 2000, and his Southland Conference work dates back to 1995.
His performance has earned him a place in the regional round of the NCAA playoffs every year since 2003. He's also worked the Big 12 tournament five of the last seven years.
Williams is no stranger to a management role, either. He has supervised umpires for the College Station chapter of the Texas Association of Sports Officials since 994. He also coordinates umpires for non-conference games for both Texas A&M and Sam Houston State University.
Williams currently resides in College Station with his wife Diane and their two daughters, Katy and Kelly.
The TCL will open its seventh season on June 1. The league added two teams this off-season, the Texas Tomcats, based in Weimar, and the Alexandria (La.) Aces, the first TCL team located outside the state of Texas. This summer's 56-game schedule is the league's longest, culminating with the crowning of a new TCL champion in mid-August.