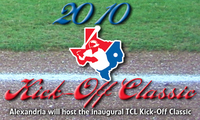 The first Texas Collegiate League game of the season, the inaugural TCL Kick-Off Classic presented by Marler Ford, will played tomorrow, May 29th, at Bringhurst Field in Alexandria, LA.

The game will culminate an All-Star Baseball Weekend in Alexandria, as Bringhurst Field will host the Louisiana High School Coaches' All-Star Games tonight and tomorrow afternoon.

The Kick-Off Classic presented by Marler Ford will be a showcase game for the top prospects of the TCL. The pre-game festivities will begin around 4:00pm. The players will display their talents for major league scouts in a combine-type setting, running the 60-yard dash and participating in infield-outfield drills to showcase their defensive skills. The pre-game festivities will culminate in a home run derby around 6:15pm. The game itself, which will begin at 7:30pm, is essentially a pre-season All-Star Game, with the South team led by Aces' head coach Mike Byrne and the North team led by Marshals' head coach Roland Fanning.
Some of the players invited include:
Spencer Barnett - IF, C - Seminole State
Ryan Bonnot - LHP - Angelina College
Jordan Barkley - OF - New Mexico
Allen Dye - 2nd, 3rd, OF - Alabama
Heath Holliday - C, OF - Conners State
Drew Krittenbrink - RHP - Oklahoma
Raymond Limon - RHP - Wayland Baptist
Troy McCartney - 3rd, OF - McClennan CC
Landon Stanford - RHP - McClennan CC
Vance Woodruff - RHP - Grayson CC
Andy Pratt - OF - Arkansas
Zack Hall - LHP - Arkansas
Marcellous Biggins - IF - Howard College
Jason Kirzan - OF - Dallas Baptist University
Heath Johnson - RHP - Penn State
Tyler Carter - RHP - Navarro College
JT Files - C - Navarro College
Geoff Lomax - P - Hendrix
Greg Olson - OF - Sam Houston State University
Wes Patterson - IF - University of Tennessee-Martin

Overall, the event will be an excellent opportunity for players to demonstrate their talent and for fans in Alexandria and Central Louisiana to witness TCL baseball in person, for the first time in an exciting All-Star Game environment. This game represents both an important beginning to the TCL season and the start of a new era of TCL baseball for the Alexandria Aces.