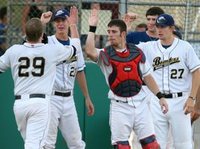 Bryan-College Station, TX (July 18, 2010) – The Brazos Valley Bombers defeated the Alexandria Aces 4-2 Sunday night on the strength of pitchers Andrew Massey and Ryan Eastman. Over 1100 Bombers fans were at Brazos Valley Bank Ballpark to help celebrate KaBoom's fourth birthday and were in for a treat, thanks to FamousFare's delicious cupcakes.
The Bombers got off to a hot start, scoring two in the first. Greg Olson and Isaac Nuti reached base on back to back singles and stood on second and third with two outs when Casey Dykes came to the plate. Dykes smashed a single that passes through the legs of Aces' starter Chris Blackmon scoring Olson. Nuti looked to be in trouble heading home, but the throw pulled the catcher off the plate and Nuti's smart slide to the inside got him in under the tag for a 2-0 lead.
In the fourth the Bombers struck again when Dykes was brought home by a Morgan Mickan RBI double that landed just inches inside the right field line extending the lead to 3-0. The Aces refused to go quietly though, scoring two in the sixth on a Shane Ardoin RBI single.
In the eighth inning the Bombers started with back to back to back singles to load the bases. With two outs Mickan again stepped to the plate and delivered as he beat out a delayed throw from the Aces shortstop allowing Nuti to score again and making the score 4-2. Ryan Eastman finished the game off by striking out the side in the ninth to earn his first save of the season.
The Bombers will be back in action at Brazos Valley Bank Ballpark tomorrow on Feast Monday against the Victoria Generals with $0.50 pop corn, peanuts and hot dogs all night.
Tomorrow night is also Guaranteed Win night at the ballpark. Anco Insurance is guaranteeing a win by the Bombers or they will give every fan in attendance a free ticket to another Bombers' game. For more information and for tickets bvbombers.com, call 979-779-PLAY, or stop by the Bombers office at 405 Mitchell Street in Bryan.