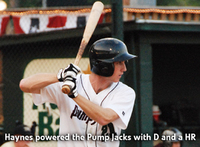 Michael Haynes
hit his first home run as a Pump Jack, Chase Graskewicz drove in two with a single and threw out a runner, and Miguel Pena pitched five strong innings as the East Texas Pump Jacks bounced back from a first-game loss to split a doubleheader with the Alexandria Aces, 3-1 and 5-3.

With the expectation of heavy rain in Louisiana on Sunday, the teams decided to move Sunday's scheduled game to Saturday and create the twinbill.

Haynes had one of the big hits early in the second game. With two out and Zac Fisher on second base in the second inning, Haynes deposited a 2-1 pitch over the left field wall for a 2-0 Pump Jack lead.

The Jacks lead doubled two innings later as Graskewicz lined the ball to right-center field, scoring Brandon Wood and Haynes.

Wood had reached on a failed sacrifice bunt, as Fisher was thrown out at second base. Haynes, however, perfectly executed a bunt for a hit, and as a plus Wood was able to advance to an uncovered third base. Haynes then stole second, and both runners scored on Graskewicz's single.

Graskewicz, the backstop making his Pump Jacks debut, made his first contribution in the bottom of the first inning. Aces leadoff man Matt Holsman walked, and one out later he ran for second base. The hitter, Brian Dillon, swung through Pena's pitch for strike three, and Graskewicz fired a strike to second to easily erase Holsman to complete the strike out-throw out double play.

The lefty Pena, who showed flashes of his talent in two scoreless innings of relief Tuesday, dominated from start to finish, earning his second win in as many appearances. Pena blew his fastball by hitters and froze them with a big-breaking curve to the tune of eight K's, including two strikeouts in each of the first three frames.

Pena gave up two hits and walked two as his ERA stayed perfect.

Leadoff hitter Lee Orr extended the Pump Jacks lead to 5-0 by doubling, stealing third and scooting home on the catcher's throwing error.

Things got dicey in the bottom of the seventh, as the Aces scored three times on a homer, a bases-loaded walk and a wild pitch, but Dusty Ross induced a groundout to preserve the win.

The first game didn't go as well for the Jacks. Alexandria scored single runs in each of the first three innings.

Chris Larsen pitched five effective innings of relief, allowing just one run on three hits and striking out two Aces.

The Pump Jack tally came in the fifth, when Matt Carvutto doubled in Blake Ellender.

Haynes was a defensive star as well on the night, snagging three line drives to end different Aces threats.

The double-header split enabled the Pump Jacks to remain in first place in the second half, one-half game ahead of the Brazos Valley Bombers.

After taking Sunday off, the Pump Jacks return to Alexandria for a regular game on Monday.

The Texas Tomcats come back on Tuesday, July 27, for another Pump Jacks Dollar Day. This is the last chance in 2010 for fans to enjoy regular hot dogs, regular soft drinks and popcorn for just one dollar each.

Wednesday the Aces return to historic Driller Park as the Pump Jacks host a Cajun Fiesta! Boudain from Hebert's Specialty Meats will be discounted to just $2, and frozen margaritas will be available for $3.

Pump Jacks Nation is now on Facebook! Visit the East Texas Pump Jacks official team page on Facebook to follow all the news and gossip about the Pump Jacks, post your thoughts on the Jacks 2010 season, upload photos, and interact with other fans. Plus, the Jacks will post specials and discounts just for the Facebook community on the page! Click the link on the left side of the Pump Jacks web site or at the top of every news article on the site, and join Pump Jacks Nation on Facebook!

To follow all Pump Jacks news, including player awards, game stories and promotions, log on to the team's official Website at www.pumpjacksbaseball.com.

|
Back to index...