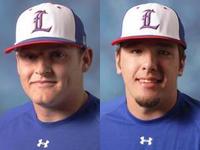 The Brazos Valley Bombers are pleased to announce the return of Brennyn Smith and Logan Burch, two integral parts of the 2011 Bombers' roster. Infielder Brennyn Smith and right-handed pitcher Logan Burch both rejoin the Brazos Valley from Lubbock Christian University. After witnessing the successful impact the two teammates created for the Brazos Valley Bombers last summer, the Bombers are confident that the duo will be nothing but beneficial in helping bring the Brazos Valley its first TCL title this season.

Originally from Montgomery, Texas, Brennyn Smith will return to the Brazos Valley looking to impress and enhance his already successful Bomber career. 2010 marked the first appearance of Smith with the Brazos Valley Bombers. Smith hit .260 and appeared in a total of 27 games. Last summer, Smith put on a Bombers jersey again and continued to improve by leading the league in games played with 58 and was fourth in the league in at-bats with 212, proving Smith is as dependable and athletic as they come. Brennyn was elected to the South All-Star TCL team, and helped the South grab the victory over the North. Ending the 2011 summer, Smith showed signs of his power and talent with 14 doubles and 4 home runs. Smith's talent is also evident in his collegiate career as well. As a sophomore, Smith put up incredible numbers for Sul Ross State University with 31 games started and a .477 batting average. Currently as a junior, Brennyn has started 17 of the 18 games played, and is posting a .322 batting average with 7 runs, 7 doubles, and 12 RBIs so far this season.

Another Montgomery native, Logan Burch, will also return to the mound for the Bombers this season. As a freshman, Burch played for Cisco Junior College. Last summer, Logan pitched 20.2 innings in 20 appearances, while striking out 12 batters keeping the fans on the edge of their seats while on the mound. Currently at Lubbock Christian University, the Bombers anticipate a great season out of Burch and are confident that Logan's passion and power will carry over to the 2012 season pushing the Brazos Valley Bombers that much closer to a ring.

The Bombers will host a total of 30 regular-season home games during the summer against the other TCL members. The Acadiana Cane Cutters, Alexandria Aces, East Texas Pump Jacks, McKinney Marshals, Victoria Generals and Woodlands Strykers will all make trips to Brazos Valley Bank Ballpark to take on the Bombers this summer.

The first game of the 2012 season is June 6th. The Bombers are trying to make history by having the first opening day sell out! The Opening Day package includes a game ticket, hot dog, a beverage of your choice, and a Bombers cap for only $10! For more ticket information call Richard at 979-985-5128 or to purchase online from the Bombers head over to: bvbombers.com.