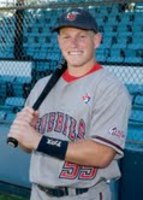 TCL Record-Setter Returns for Generals
April 17, 2012 – The Victoria Generals of the Texas Collegiate League have announced that their record-
setting utility player from a year ago, Chad Kruse, will remain in Victoria to play for the Generals again
this summer.
In 2011, Kruse broke onto the scene and quickly made a name for himself in the league by winning the
TCL Player of the Week award for week one of the regular season. Kruse kept his hot streak going all
season on his way to shattering the TCL records for hits (77) and at-bats (237) in a season while finishing
tied for third place in voting for TCL Player of the Year. Kruse also won a second TCL Player of the Week
award for week 10 of the season.
"Chad had a tremendous season for us last summer from start to finish," commented Blake Koch,
Victoria's GM. "He was the focal point of our offense and had a great knack for getting on base."
Kruse's record-setting season earned him a spot on the All-TCL team as an outfielder despite playing
multiple positions throughout the summer. Kruse finished the year with a .325 batting average which
was highest on the team. Kruse added 13 doubles, three triples, seven stolen bases, 18 walks, 26 RBIs,
and 44 runs scored.
"I've never been around another college baseball player that works or plays harder than Chad," stated
Koch. "He deserves every bit of his success due to his work ethic and determination to succeed."
Kruse, a native of San Antonio, is currently in his junior season at the University of Houston-Victoria.
Kruse transferred to UHV after spending a redshirt season at Sam Houston State University.
As a freshman and sophomore, Kruse was a member of the Richland College baseball team where he
helped lead the Thunderducks to the NJCAA Division III National Championship in 2009. Kruse hit .420
as a freshman and .385 as a sophomore at Richland.
Kruse is currently leading UHV nearly every offensive statistical category. Kruse is hitting .345 on the
season with 40 hits, 14 doubles, one triple, two home runs, five stolen bases, 12 walks, 23 RBIs, and 22
runs scored.
The Generals home opener is on Sunday, June 3 at 7:05pm at Riverside Stadium against the Acadiana
Cane Cutters. Season tickets for all 30 of the Generals home games this season are on sale now.
Fans can buy season tickets and team merchandise at the Generals team store located at 3708 North
Navarro, Suite A in the Landmark Shopping Center, online at www.VictoriaGenerals.com, or by calling
361-485-9522.