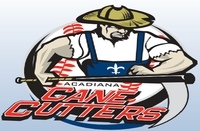 Cane Cutters Announce the Addition of Two Cajuns to the 2012 Roster
The Cane Cutters have announced the addition of two local players from the University of Louisiana's
Ragin' Cajuns. Third basemen Tyler Frederick will join teammate, outfielder, Almann Snowden this
summer for the Acadiana Cane Cutters' pursuit of the 2012 Texas Collegiate league crown.
Tyler Frederick, a 6' foot tall third basemen, has had an outstanding Junior season for the Cajuns thus
far in 2012. He has played in 30 games, starting 26 of those. He is currently batting .269, which places
him fourth on the team in that category. On top of his outstanding batting average, Frederick has
seven doubles and a .370 on base percentage, placing him second and third on the team in those two
categories respectively. To go along with his spectacular offensive numbers, Tyler has been flashing his
glove in the defensive department this season, ranking in the top half of the team in fielding percentage.
During Frederick's freshman season he had a 12 game errorless streak going in the month of April and
also put together a 13 game hit streak. He finished his freshman campaign batting well over .300.
"Tyler is having an outstanding season after coming off of his arm surgery last season. We are looking
forward to having him with us this year. His maturity and experience will be a great asset," commented
head coach Lonny Landry.
Frederick was born and raised in Lafayette, Louisiana and played his high school ball at Acadiana High.
During his senior year, Frederick led the Wreckin' Rams to a district 5A championship and was named to
the Louisiana All-State team.
Almann Snowden, a six foot tall freshman outfielder, has gotten his career underway with the Ragin
Cajuns this season after appearing in 15 games. Snowden has been a tough out at the plate this season,
and has also registered a .277 slugging percentage.
"Almann is a very talented outfielder and is really growing as a collegiate hitter. We are lucky to have a
player with his skills." says Coach Landry.
Snowden played his high school baseball in his hometown of Zachary, Louisiana where he starred as a
pitcher and outfielder. As a high school freshman Snowden earned the "Golden Glove" award, handed
out to the team's player of the year, and also made 1st team all-district.
To follow up his outstanding freshman season, Snowden made 1st team all-district a second consecutive
year during his sophomore campaign and was also awarded the "Silver Slugger" award for leading the
team in home runs.
"I've enjoyed playing the game of baseball because it's something I've enjoyed doing since I was four
years old," says Snowden.
The Cane Cutters will open the season Friday, June 1st when they take on the Alexandria Aces at
Fabacher Field. Season tickets are on sale now through the Cane Cutters box office at Fabacher Field,
221 La Neuville Rd. Youngsville, Louisiana or by calling 337-451-6852. You can also purchase your season
tickets at www.canecuttersbaseball.com after April 24th. Be sure to like us on facebook at Acadiana Cane
Cutter baseball and also follow us on twitter at CaneCuttersBB for all of your Acadiana Cane Cutters
baseball news.