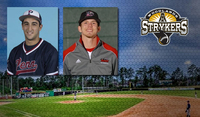 Halevy, Wadkins Wrap-Up Final Two Outfielder Spots
(The Woodlands, TX – 28 April, 2015) The Woodlands Strykers are ecstatic to announce the addition of both Daniel Halevy (University of Pennsylvania) and Ryan Wadkins (Drury University). The acquisitions of Halvey and Wadkins put the finishing touches on what has been an outstanding recruiting class for the Strykers outfield.
Daniel Halevy, sophomore outfielder from the University of Pennsylvania, pitched for Houston's St. John's High School before declaring to attend the University of Houston. In 2015, Halevy did not appear for any games for the Cougars, but after transferring to the University of Pennsylvania in 2016, Halevy saw a major increase in playing time. During the 2016 campaign, Halevy has started in 23 of the Quaker's 33 games, appearing in 26. As an outfielder or the Quakers, Halevy has maintained a perfect fielding percentage. Also posing as an offensive threat, Halevy currently bats at a healthy .309 with 25 hits, 13 runs scored, 6 RBIs and 2 HRs. Look for the Strykers coaching staff fully utilize Halevy's well-rounded skillset this season.
Ryan Wadkins, sophomore from Drury University, adds to the interesting dynamic of the Strykers outfield. Wadkins, as a freshman in 2015, started 45 games for the Panthers finishing the campaign with 32 runs scored, 50 hits, 8 RBIs and 2 HRs while maintaining a .294 batting average and a .962 fielding percentage. Wadkins also led the team in stolen bases with 18 and tied a school record with 3 stolen bases in one game against Grand Valley State. 2016 has been more/less the same for Wadkins as he currently hits with a batting average of .277 along with 14 runs scored, 26 hits, 8 RBIs, 5 stolen bases and a perfect fielding percentage with plenty of baseball still to be played for the Panthers. The Strykers are sure to take advantage of Wadkins' panther-like speed and potent bat this summer.
Catch these fantastic young players and the rest of the Strykers' talented roster as they take the field for the opening game of their 2016 season on Tuesday, May 31st against the three time defending TCL champions, the Brazos Valley Bombers.
Join the Strykers for affordable family fun baseball this summer; The 2016 season opens May 31st and you can reserve your tickets by calling (702) 205-5709 or visiting www.woodlandsstrykers.com; Follow the Strykers online @wstrykers and on Facebook.