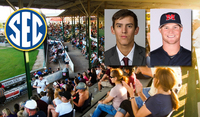 Bombers' Roster to Feature Large SEC Presence
Six Players Representing Three SEC Schools on 2016 Roster
Bryan-College Station, TX (April 28, 2016) - The Brazos Valley Bombers are proud to announce the welcoming of 6 players from the Southeastern Conference for the 2016 season. Alan Campero (Texas A&M), Michael Fitzsimmons (Ole Miss), and Connor Green (Ole Miss) join previously announced signees MacGregor Hines (Florida), Dillon Drabble (Texas A&M), and returning Bomber Henri Lartigue (Ole Miss) on the Bombers' roster for the 2016 "Road to Four" season.
Alan Campero is a freshman infielder for Texas A&M. As a four-year starter Campero led Alexander to the playoffs in all four years, including a trip to the state championships as a senior. Campero earned many accolades during his time at Alexander including First Team All-State in his final season at Alexander. He was named District 29-5A MVP as a junior, hitting .372 with 32 runs, 14 doubles, three triples, 18 RBI at the plate and going 9-1 with a 0.75 ERA and 49 strikeouts (21 walks) in 65.1 innings; and Texas High School Baseball Coaches Association First Team and Collin Street Bakery/Texas Sports Writers Association Class 6A All-State Third Team recognition as a senior.
Michael Fitzsimmons is a redshirt freshman infielder, from Eads, Tennessee, currently playing for Ole Miss. While playing at Memphis University School Fitzsimmons hit .413 as a senior with 13 home runs, 62 RBI, 39 doubles, and 53 runs scored. Fitzsimmons received All-State honors as a junior and Senior.
Freshman Connor Green, a right-handed pitcher from Ole Miss, will also bring his talents to the Brazos Valley this summer. Green has acquired many accolades while attending St. George's Independent School, such as 2015 Honorable Mention All-American and Second Team All-Region by Perfect Game as well as being named Best of the Preps Player of the Year by The Commercial App and St. George's Male Athlete of the Year. Green posted a perfect 9-0 record with a 0.55 ERA and 122 strikeouts in 76.2 innings.
The Bombers are set to take the field on May 27th to begin their "Road to Four" at home against the Acadiana Cane Cutters.
Affordable family fun returns to Cellucor Field as the Bombers decade season begins May 27th. For tickets and more information about the 3-peat defending champion Bombers, call (979) 779-PLAY or go to www.bvbombers.com. Download the Bombers mobile app today for all the latest news, social media and promotions: http://bit.ly/bvbombersapp