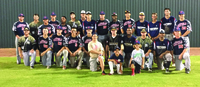 Bayou Blues Defeat Vermillion Reds 9-3 in 2016 TCL All-Star Game
Lafayette, LA (July 20, 2016) – Last night at the 2016 Texas Collegiate League All-Star game the Bayou Blues defeated the Vermillion Reds 9-3 in a game that was played in front of a dozen or more MLB scouts. The game was played at the Acadiana Cane Cutters' field in Youngsville, Louisiana.
The teams were selected by each coach through a drafting process that happened before each game.
The Victoria Generals' Michael Brawner started the game for the Blues and got through the top half of the first inning unscathed. The starter for the Reds was Willy Amador of the Brazos Valley Bombers and pitched an uneventful bottom half of the first. The scoring started in the second inning when the Blues jumped out to a 3-0 lead and ended the game with a two run in the ninth.
The MVP of the game was the Cane Cutters' Trenton Buchhorn. Buchhorn went 3 for 5 and two RBIs on the night.
The TCL returns to action Wednesday night when the Victoria Generals take on the Brazos Valley Bombers in Bryan, TX, and the Texas Marshals travel to Louisiana to face the Acadiana Cane Cutters. All first pitches are at 7:05 p.m.