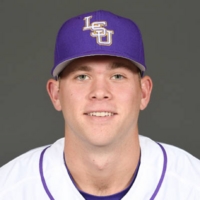 The Texas Collegiate League is looking forward to an exciting summer season. With the announcement of the new team, the Texarkana Twins, it will be a tight race for the TCL championship. With the Bombers taking the last four titles, will a new team rise to the top? The talent this summer is going to be second to none so expect some impressive performances from a number of players around the league.
Out of all the players on this year's TCL rosters, there will be a countless amount who are able to make an impact for their respective organizations. But we have listed the top 10 players to watch for come opening day, and how these players could potentially have an impact on the 2017 TCL championships.
Here are ten players to look out for this summer:
1. Michael Helman - Brazos Valley Bombers 6'1 – Utility
Helman will have some high expectations from Bombers all-time hit leader, Coach Trey Porras. Coming off an incredible season where Michael was not only the NJCAA leader in hits (111), he also held the highest batting average at .497. Helman is transferring from Hutchinson Community College to nearby Texas A&M University this upcoming season. Michael will be a major weapon for the 4-time defending champions.
2. Mackenzie Mueller - Texas Marshals 6'3 - Pitcher
The Generals pitching rotation will be solid with Rice pitcher Mackenzie Mueller on the mound. After having a remarkable 12-0 record on the mound for Abilene Wylie, Mueller can also crush the ball. Recording a .491 batting average in high school, Mackenzie was named the 2016 4A Player of the Year by the Texas Sports Writers Association. Mueller led Wylie to be 4A state champs with a remarkable record of 32-3. He will look to bring the Marshals some productivity on both the batting and pitching end. The Marshals are looking for their first ever title in the Texas Collegiate League.
3. Austin Bain – Acadiana Cane Cutters 6'1 – Pitcher
The junior from LSU will bring in some reliable starting/relief pitching to the Acadiana roster. His fastball has been consistently in the 90 mph range throughout his tenure with the Tigers. In 20 appearances in 2016, Bain posted a 4-0 record with a 4.60 ERA. Austin received Co-Freshman of the Week honors his first season and Bain is known for not being afraid of really going right after batters.
4. Jack Kenley – Victoria Generals 6'0 – Infielder
Arkansas Razorback Jack Kenley is looking to help bolster the infield for the Generals this summer. In high school Jack was ranked the number two shortstop in Tennessee, and hit a solid .457. Kenley earned Rawlings-Perfect Game All-America honorable mention. The Generals need a productive hitter this summer and he will bring a much-needed bat to the lineup.
5. Alex Harper-Cook – Texas Marshals 6'2 - Pitcher
Alex didn't appear in any games his sophomore year at Tennessee, but appeared in 15 games for the Volunteers in 2016 with a 3.09 ERA. He was ranked the number five left handed pitcher in Tennessee. Alex will look for some playing time with the Marshals to prove what he can do on the mound. The Marshals will bolster the pitching rotation with Harper-Cook alongside Mackenzie Mueller.
6. Allonte Wingate – Brazos Valley Bombers 6'0 - Shortstop
Wingate, a Cisco JC transfer from Houston, will be at shortstop for the Bombers this season. Scouts rave about the shortstop as being a polished defender with a powerful arm. He is known for his swift hands and stout fundamentals. Some people can compare him to his favorite player Francisco Lindor, good luck telling them apart when he's out on the diamond. Wingate had a .350 batting average at Cisco this past season.
7. Riley McKnight – Victoria Generals 6'1 – Utility
McKnight is in his second season at SHSU and has a .256 batting average this season. Scouts rave about Riley's speed freshman year with his ability to steal in 11/12 attempts. In high school, he was named the Texas Sports Writers Association All-State second baseman. The Generals will be able to use McKnight at multiple positions thanks to his versatility.
8. Gavin Alvarez – Brazos Valley Bombers 6'0 - Pitcher
Alvarez is looking to be the guy who can bring in some relief pitching for the Bombers. Coming off a torn meniscus, Gavin is excited to get back on the field to prove what he can do. To start this season he will be one of the only lefty pitchers on the tentative roster.
Last summer he played under Coach Porras with the Hoptown Hoppers and he led the Ohio Valley League in saves as well as strikeouts with a whopping 0.96 ERA.
9. Jonathon Artigues – Acadiana Cane Cutters – Pitcher
Pitcher Jonathon Artigues didn't play his freshman year for Tulane, but he lit up the mound during his time in high school, winning the Mississippi state championship his senior year with a 29-5 record. He produced a 12-1 record with a 1.12 ERA. Earning All-State, All-District honors, and earned the "Mr. Rock-A-Chaw" award. Not only can Artigues dominate the mound, but he can hit the ball as well. He had a .392 batting average with St. Stanislaus.
10. Tyler Marshall – Texarkana Twins 5'11 - Infielder
Marshall is able to play multiple positions, which makes him a valuable asset to the new TCL team, the Texarkana Twins. With Kentucky, Tyler has played some second base, third base, and right field. He is known for his long arm, accurate throws, as well as his quick hands. He has been dealing with some knee issues, but has looked sharp on the field. Look for Tyler to be one of the standout players for the Twins this summer.
All of these players will contribute in numerous ways for their designated teams. Each athlete brings a different set of abilities to the table, but each of them are focused on one goal, to bring the hardware home. The TCL title is up for grabs this summer and expect for it to be a great season in the south!
-Evan Geller