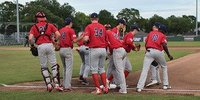 YOUNGSVILLE, La. (July 12, 2018)- The Acadiana Cane Cutters returned to Fabacher Field for a two-game series against the Brazos Valley Bombers, taking the opener by a score of 3-2.
It was a close game with few hits from both teams as the pitchers battled it out on the hill. Starting pitcher Tyler Booth (LSUE) was named Powerade Player of the Game after pitching 6.2 innings and striking out four Bombers' batters.
Head coach Joey Satriano was impressed by Booth's performance against the Bombers. He spoke to the Daily Advertiser after the game stating that he liked the mentality that Booth had against hitters.
Alex Nelms (Univ. of Southern Miss) took over on the mound to deliver the final out of the seventh inning before Jimmy Dobrash (ULL) recorded the save in the final two frames of the game.
The Cutters scored two runs in the fourth inning. One on an RBI double from Chandler Morris (Texas A&M) and another on an RBI single from Nathan Gabryszwski (Lamar University). Cole Secrest (Lamar University) drove in Kyle Bayles (Mississippi State) in the eighth inning for run number three.
The Cutters will be back at Fabacher Field again tomorrow (7/13) against the Brazos Valley Bombers. It will be Military Appreciation Night! Gates open at 6 PM and first pitch is at 7 PM for all home games. To get weekly updates on the team and other fun theme nights coming up, please visit our website and subscribe to our newsletter.
Come cheer on the Cane Cutters as they work to reach the TCL Championship for the 4th consecutive season. For more information and ticket needs call the Cane Cutters front office at (337) 451-6582 or go to canecuttersbaseball.com. For all news, stats, weather updates, and discounts for the 2018 season follow the Cane Cutters on Facebook at Acadiana Cane Cutters Baseball, Twitter @CaneCuttersBB, and Instagram at Acadiana_CaneCutters.