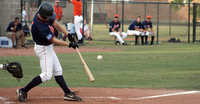 Denton 6
Graham 3
While his brother Huston was earning a save for the Oakland A's over the Texas Rangers in Arlington, Jordon Street was doing the same for the Outlaws in Graham. The Texas lefty fanned four in two scoreless innings to help first place Denton extend its lead to three games. Blake Kronkosky was the starter and winner, allowing three runs with seven strikeouts in seven innings. Josh Banda snapped a 2-2 tie with his rbi double in the sixth. Don Donaldson took the loss for the Roughnecks, losers of three in a row.
McKinney 3
Euless 1
Austin Creps was outstanding in the Marshals' third straight victory. The Texas A&M righthander issued just two hits and a run in seven innings with 11 strikeouts to improve to 5-1, 1.57 on the summer . Ryan Mosher blanked the LoneStars over the final two frames for the save. Trey Rachal's two-run homer off loser John Noland in the fifth provided the winning margin for McKinney, who remained 1.5 games behind Speaker Division leading Coppell.
Mineral Wells 12
Weatherford 3
The Steams scored five times in the seventh and six times in the eighth to break open a 1-1 game. Ben Burum had a grand slam in the seventh and Stephen Bradshaw a three-run double in the eighth. Burum leads the TCL with ten homers and 33 rbi. Donald Furrow was the loser, allowing three runs in 6.1 innings before Hart Hering issued eight runs in just 1.1 frames. Josh Miller permitted just three hits and two runs in eight innings to drop the Wranglers three games behind Dention in the Hornsby Division.
Coppell 7
Highland Patk 5
The Copperheads jumnped out to a 6-0 lead and held off the Blue Sox. Anthony Jackson was 2-4 with two rbi and Tyler Hill went 3-5 in the win. James Russell improved to a league best 6-1, allowing three runs and fanning ten in 6.2 innings. Matt Berezay had a grand slam for Highland Park in the seventh. Starter Eric Evans took the loss.